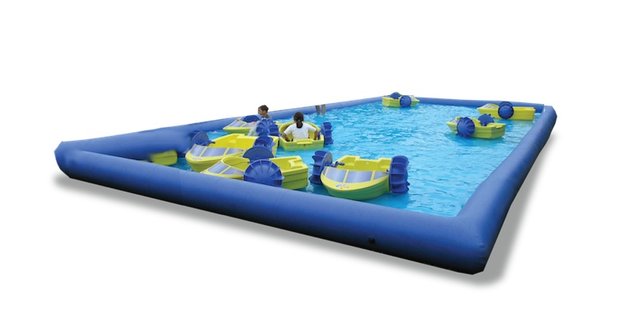 Power Paddler Boats and Pool
Actual Size: 20ft wide x 20 ft long x 2.5 ft High
Setup Area: 20ft wide x 20 ft long x 2.5 ft High. Water source required to fill the pool. Takes approximately 3500 gallons to fill pool. Comes with 6 paddle boats
Outlets: 1 regular 3 prong outlet required with 15 amp minimum breaker
Age Group: 3 years and up. 6 Person Max Capacity. Must be minimum of 36" in height for public events
Attendants: 2 required. Supervision can be done by an adult volunteer. Attendent's are additional and can be added under "Professional Staffing"




All Aboard! The Power Paddler boats are a refreshing and fun activity for any summer event. The boats are very easy to operate and don't require any electrical power. These hand powered paddle boats will provide hours of fun and also aid in dexterity and muscle development.
This Power Paddler Boats are great for all outdoor summer events. They can be set up inside provided there is an adequate water source for the pool and proper drainage to allow water to drain once the event is complete.