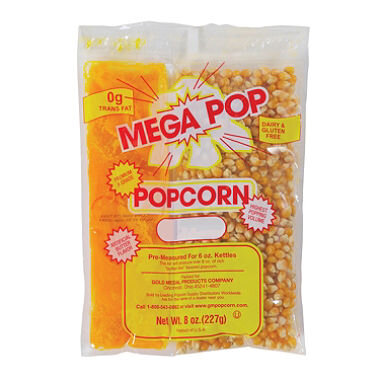 Pre-mix Popcorn packs
Movie Theatre popcorn right at your finger tips. The smell of freshly popped popcorn will make everyone hungry! Pre-mix popcorn packs are perfect for any event. Less mess! No measuring! and less clean up! Pre-measured amounts of popcorn, seasoning salt, butter and coconut oil for perfect popcorn every time.
One 8 oz portion pack will make approximately 32 cups of popped popcorn (8 - 10 small 1 oz bags)
Peanut free
0 Trans Fats
Diacetyl Free
Gluten Free
Pareve Certified Kosher
Cut-off the top and put the contents into your heated kettle and away you go.